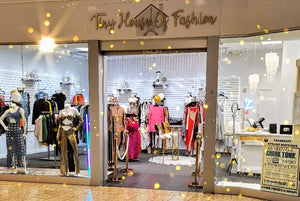 WELCOME TO OUR VIP SHOPPING EXPERIENCE!!!
ABOUT US:
Now a STOREFRONT! Tiny House of Fashion was the first Mobile "Tiny House" Fashion Boutique in the DMV (DC, MD, and VA) area! (Yes, like the Tiny House Nation show). Tiny Homes are: small, simple, and compact living that allows mobility and freedom. Think of our past mobile brand as a boutique on wheels inside a "relaxed at home" environment, a moving brick & mortar, or a mobile "pop" up shop... 
WE OFFER:
-custom designer pieces that you won't find anywhere else
-handpicked & curated eye-catching pieces
EXCLUSIVE. ELEGANT. EXQUISITE. 
Exclusive Fearless Jumpsuits!
---
Exquisite Showstopper Items!
---
Our store HOURS:
Opened Nov 1, 2023 at Fair Oaks Mall:
11750 Fair Oaks Mall Fairfax, VA (near Macy's Furniture & Sbarro)
Mon-Thurs 10am - 8pm
Fri & Sat 10am - 9pm
Sunday 11am - 7pm